Democrats Take the Helm; First 100 Hours Begins Without GOP Voice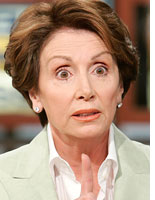 As Nancy Pelosi takes the helm of command as the new Speaker of the US House, the first 100 legislative hours become key to their legislative success. But, unfortunately, they've already started out on the wrong foot.
Congressional Democrats have decided to silence the Republican Minority and prevent them from offering amendments or any other legislative motion to the bills that Democrats plan to bring to the floor of the House
. Pelosi, Hoyer, & Co. have promised over and over again to make the 110th Congress the most open and bipartisan Congress in this nation's history.
This first step does not seem like a move in the right direction to make that campaign promise a reality.
The Democratic agenda for the first 100 hours includes:
-raising the national minimum wage rate to $7.25 per hour
-enact lobbyist and ethics reform legislation
-slashing the interest rates on college student loans
-enact furter recommendations of the 09/11 Commission to prevent other terrorist attacks
-mandate that the federal government directly negiotiate with drug companies for lower prescription drug prices
-widening stem cell research beyond what President Bush has previously allowed
Yesterday,
President Bush held a press conference at the White House after his first cabinet meeting of the new year to articulate his hopes and wishes for what the new Congress will tackle.
In a very shrewd political move, President Bush underscored the need for a balanced budget and said his Administration would introduce a proposal to balance the federal budget by the year 2012. Bush also mentioned reforming Social Security and Medicare as other top legislative priorities on his agenda.